AMC-5810 : Industrial Ethernet to Serial Media Converter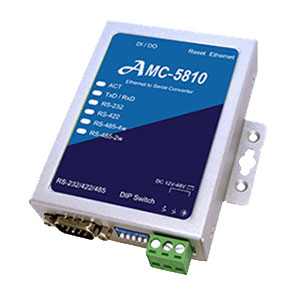 Ethernet 10/100Base-TX transmission
RS-232/422/485 speed up to 230.4 Kbps
15KV ESD protection for all RS-232/422/485 signals
2.5KV isolation between device and RS-232/422/485 interface
Supports terminator and biasing resistor via DIP switch
Supports 3-channel DI and 3-channel DO for event trigger
Supports ARP, TCP/IP, ICMP, DHCP, HTTP, Telnet, and SMTP
Built-in webpage remote management for serial operation mode setting, DI/DO situation, and firmware upgrade
Din-Rail mount or wall mount robust housing
Operating temperature (0 to 70°C)
The AMC-5810 is an Ethernet to serial RS-232/422/485 converter. The device provides Ethernet communication with 10/100Mbps, the serial interface RS-232/422/485 configuration with webpage management and the DIP switch for position terminator or biasing resistor on theRS-485/422 communication network, the digital input (DI) and digital output (DO) channels for logic control or event trigger.
The AMC-5810 provides Ethernet 10/100Mbps communication and 1.5 KV isolated protection. The user can use standard or cross over cable to plug in RJ45 connector. It also supports TCP/IP, ARP, ICMP, HTTP, and Telnet protocols. The webpage provides serial RS-232/42/485 2-wire/485 4-wire mode, getting DI status, setting DO state, and firmware upgrade.
Isolation and ESD protection
The AMC-5810 offers 2.5KV isolation protection between device and RS-232/422/485 interface. It also has 15KV ESD protection on all RS-232/422/485 signals.
Serial mode, Terminator and Biasing functions
The AMC-5810 serial converter supports RS-232, RS-422, half-duplex 2-wire RS-485 and full-duplex 4-wire RS-485 modes selection, it is easy to use in the serial multi-drop networking application. There are terminators and biasing resister for tuning networking characteristics.
DI and DO channel
The AMC-5810 has 3-channel digital input (DI) and 3-channel digital output (DO). All of DO channels are sink-type and provide 150mA sink current, and have overcurrent protection. All of DI and DO channels have 2.5KV isolation and ESD protection.
Wide operating temperature
For most of industrial applications are harsh environment, The AMC-5810 provided the operating temperature from -10 to 70°C, give you a reliable solution of a Ethernet to RS-232/422/485 converter for wide temperature application.
Wall-mount or Din-Rail solution
The AMC-5810 provides wall-mount and DIN-Rail installation solutions; allow you easily screw it by wall mount screws or mount it on the DIN-Rail by DIN rail mount kit.
Ethernet Interface
Number of Ports: 1
Compliance: IEEE 802.3/3u compliant
Connector: RJ45
Speed: 10/100Mbps
Magnetic Protection: 1.5 KV
Indicator: Act
Webpage and Protocol Support
Serial mode configuration
Firmware upgrade
DI/DO setting
Protocol: ARP, ICMP,TCP/IP,HTTP, UDP, DHCP, Telnet, and SMTP
DI/DO Interface
DI: 3-channel digital input
DO: 3-channel, 150mA sink-type and overcurrent protection
Connector: Terminal block 5.0mm
Isolation: 2.5KV between system and DI/DO
Connector: DB9 male
Interface selection: setting by internal jumpers
Terminator and Biasing functions: setting by internal jumpers
RS-232 signals: DCD, RxD, TxD, DTR, GND, DSR, RTS, CTS, RI
RS-422 signals: TxD+, TxD-, RxD+, RxD-, GND
RS-485 4-wire signals: TxD+, TxD-, RxD+, RxD-, GND
RS-485 2-wire: Data+, Data-, GND
Indicator: Green for TxD, Red for RxD
Definition of pin-out (DB-9)
Serial Port Configuration
SW-1, A terminator between TxD+ and TxD-
SW-2: A terminator between RxD+(Data+) and RxD-(Data-)
SW3, SW4: 2 biasing resistors for RS-485 network communication
SW5: RS-232 Loop back test
Connection Distance
Ethernet: 200 meters
RS-232: 15 meters (50 feet)
RS-422: 1200 meters (4000 feet)
RS-485 2w/4w: 1200 meters (4000 feet), Max. 32 nodes
ESD Protection: ESD Contact 8KV, Air 15KV embedded
Isolation: 2.5KV between system and RS-232/422/485
Performance
Baud rate: 300 to 230400bps
Serial Parameters
Data bits: 5, 6, 7, 8
Stop bits: 1, 1.5, 2
Parity: None, Even, Odd, Space, Mark
Flow control: RTS/CTS, XON/XOFF
Physical Characteristics
Housing: SECC sheet metal (1mm), IP30 protection
Dimension: 74 x 24.7 x 99 mm ( W x H x D)
Weight: 275g
Environment Operating
Operating Temperature: 0 ~ 70°C (32°F ~ 158°F)
Operating Humidity: 20 ~ 85% @40°C, non-condensing
Storage Temperature: -20 ~ 85°C (-4°F ~ 185°F)
Storage Humidity: 10 ~ 90% @40°C, non-condensing
Safety and Certifications
EMC: CE, FCC
EMI: FCC Part 15 Class B, CE EN55022 Class B
EMS: EN55024: 2010
EN61000-4-2: 2009 (Level 4)
EN61000-4-3: 2006 + A2: 2010
EN61000-4-4: 2004 + A2: 2010
EN61000-4-8: 2010
Green Product: RoHS, CRoHS, WEEE
Power Requirements:
Power Input: 12 ~48Vdc,
Consumption: 110mA@24Vdc
Dimension Drawing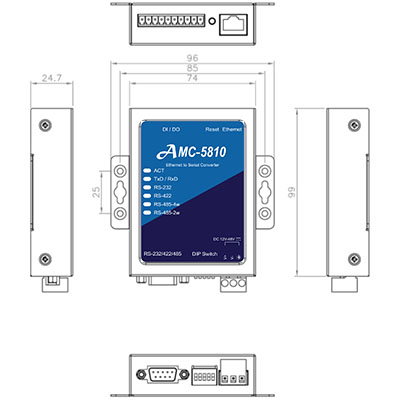 Ordering Information
| | | | | |
| --- | --- | --- | --- | --- |
| P/N | Product Description | Operating Temperature | Isolation Protection | ESD protection |
| AMC-5810-i | Ethernet to isolated RS-232/422/485 Converter | 0 ~ 70°C | 2.5KV (RS-232/422/485) | 15KV(Air)/8KV(Contact) |
| AMC-5810-id | Ethernet to isolated RS-232/422/485 Converter with DI and DO | 0 ~ 70°C | 2.5KV (RS-232/422/485) | 15KV(Air)/8KV(Contact) |
| AMC-5810 | Ethernet to RS-232/422/485 Converter | 0 ~ 70°C | | 15KV(Air)/8KV(Contact) |
| AMC-5810-d | Ethernet to RS-232/422/485 Converter with DI and DO | 0 ~ 70°C | | 15KV(Air)/8KV(Contact) |