AMC-2320 : Industrial USB to 2-Port RS-422/485 Converter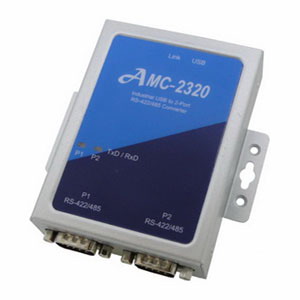 Compliant USB 1.1/2.0 for up to 480Mbps transmission
2-port RS-422/485 speed up to 921.6 Kbps
Supports terminator and biasing functions
15KV ESD protection for all RS-422/485 signals
3KV optical isolation between USB and RS-422/485 interface
Low power consumption with USB bus powered
USB Drivers provide for Windows and Linux operating system
Din-Rail mount or wall mount robust housing
Wide operating temperature (-40 to 70°C)
The RS-485/422 protocol has been widely used in most of industrial equipments for serial port communication. The USB interface also has been built in the personal computer or embedded system device. RS-485/422 and USB offer better transmission speed, wide range and networking capabilities. Hence, the AMC-2320, USB to 2-port RS-422/485 converter takes the important interface and popular to be deployed in the industrial communication network and higher reliable applications.
USB Drivers for Windows and Linux
The AMC-2320 provides USB drivers for Windows XP/Vista/7/8 and Linux operating system. It is easy to create two serial ports for monitoring and utilization.
Isolation and ESD protection
The AMC-2320 offers 3KV isolation protection between USB and RS-422/485 interfaces

However two ports RS-422/485 do not isolate each other. It also has 15KV ESD protection on all RS-422/485 signals and USB signals.
Serial mode, Terminator and Biasing functions
The AMC-2320 serial converter supports RS-422, half-duplex 2-wire RS-485 and full-duplex 4-wire RS-485 modes selection, it is easy to use in the serial multi-drop networking application. There are terminators and biasing resister for tuning networking characteristics.
Wide operating temperature
For most of industrial applications are harsh environment, all AMC-2320 series provide the operating temperature from -40 to 70°C, give you a reliable solution of a USB to RS-422/485 converter for wide temperature application.
Wall-mount or Din-Rail solution
The AMC-2320 provides wall-mount and DIN-Rail installation solutions; allow you easily screw it by wall mount screws or mount it on the DIN-Rail by DIN rail mount kit.
USB Interface
Number of Ports: 1
Compliance: USB1.1/ 2.0 compliant
Connector: USB type B
Speed: 480 Mbps (Hi-speed USB) and 12 Mbps (Full-speed USB)
Indicator: Red for USB bus powered
Driver Support
Windows(2000/XP/Vista/7/8 x86/x64)
Linux 2.4, Linux (2.6 x86/x64)
RS-422/485 Interface
Number of Ports: 2
Connector: DB9 male
Interface selection: setting by internal jumpers
Terminator and Biasing functions: setting by internal jumpers
RS-422 signals: TxD+, TxD-, RxD+, RxD-, GND
RS-485 4-wire signals: TxD+, TxD-, RxD+, RxD-, GND
RS-485 2-wire: Data+, Data-, GND
Indicator: Green for TxD, Red for RxD
Definition of pin-out (DB-9)
Port 1 Configuration
JP1, JP2: Port 1 serial mode
JP3: Port 1 terminator
JP7, JP8: Port 2 biasing resistors
Port 2 Configuration
JP4, JP5:Port 2 serial mode
JP6: Port 2 terminator
JP9, JP10: Port 2 biasing resistors
Connection Distance
USB: 5 meters
RS-422: 1200 meters (4000 feet)
RS-485 2w/4w: 1200 meters (4000 feet), Max. 32 nodes
ESD Protection: ESD Contact 8KV, Air 15KV embedded
Optical Isolation: 3KV between USB and RS-422/485
Performance
Baud rate: 300 to 921.6Kbps
Serial Parameters
Data bits: 7, 8
Stop bits: 1, 2
Parity: None, Even, Odd, Space, Mark
Flow control: RTS/CTS, XON/XOFF
Physical Characteristics
Housing: SECC sheet metal (1mm), IP30 protection
Dimension: 74 x 24.7 x 99 mm ( W x H x D)
Weight: 241 g
Environment Operating
Operating Temperature: -40 ~ 70°C (-40°F ~ 158°F)
Operating Humidity: 20 ~ 85% @40°C, non-condensing
Storage Temperature: -40 ~ 85°C (-40°F ~ 185°F)
Storage Humidity: 10 ~ 90% @40°C, non-condensing
Safety and Certifications
EMC: CE, FCC
EMI: FCC Part 15 Class A, CE EN55022 Class A
EMS: EN55024, EN61000-4-2/ 4-3/ 4-4/ 4-5/ 4-6/ 4-8/4-11
Green Product: RoHS, CRoHS, WEEE
Power Requirements: 200mA@5V bus powered
Dimension Drawing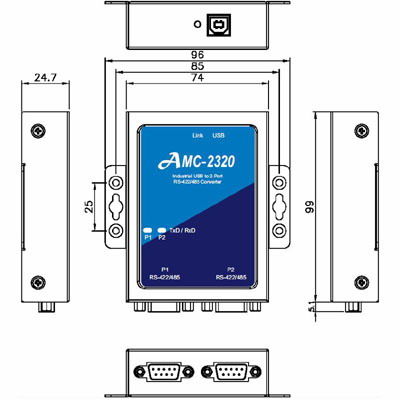 Ordering Information
| | | | |
| --- | --- | --- | --- |
| P/N | Product Description | Operating Temperature | Isolation Protection |
| AMC-2320 | Industrial USB to 2-Port to RS-422/485 Converter with isolation | -40 ~ 70°C | 3KV(RS-422/485) |