AMC-1310 : Industrial RS-232 to RS-422/485 Converter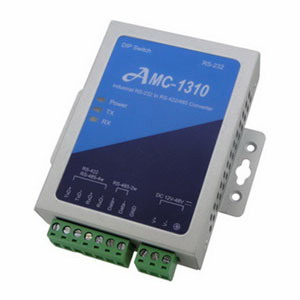 RS-232 to RS-422/485 converter
Speed up to 921.6Kbps
Auto baud rate and direction control
3KV isolation and 15KV ESD protection
Wide range power input (12V to 48Vdc)
Wide operating temperature (-40 to +70°C)
Configuration by DIP switch
Terminator and biasing resisters setting by DIP switch
Din-Rail mount or wall mount robust housing
The standard RS-232 protocol has been widely used in most of industrial equipments for serial port communication. Based on the differential protocol of RS-422/485, they offer better transmission speed, wide range and networking capabilities. Hence, the AMC-1310, industrial RS-232 to RS-422/485 converter takes the important interface and popular to be deployed in the industrial communication network for longer distance and higher reliable applications. It provides complete signal conversion between RS-232 and RS-422/485.
Automatic Direction and High Speed Transmission
The AMC-1310 serial converter supports RS-422, half-duplex 2-wire RS-485 and full-duplex 4-wire RS-485. The RS-485 offers the automatic data direction control feature. It means that no programming effort is required to control the transmission direction of the RS-485 signal. The RS-485 driver is enabled automatically when the circuit senses the transmission from the RS-232 signal. The data rate supports up to 921.6Kbps, satisfying the need of most automatic control systems.
Wide Power Input, Temperature, and High Endurable Protection
The wide range DC power input from 12V to 48V, this wide range DC power input supports the demanding of versatile industrial applications. Most of industrial applications are harsh environment, The AMC-1310 provides the operating temperature from -40。C to 70。C, give you a reliable solution of a RS-232 to RS-422/485 converter for wide temperature application. The AMC-1310 provides 3KV isolation protection between RS-232 and RS-422/485 interfaces, it also offers 15K ESD protection on the RS-422/485 signal lines.
RS-232 Interface
Number of Ports: 1
Connector: DB9 female
Signals: TxD, RxD, GND
Definition of pin-out ( DB-9)
RS-422/485 interface
Number of Ports: 1
Connector: Terminal Block
Signals: (Interface selected by DIP switch)
RS-422: TxD+, TxD-, RxD+, RxD-, GND
RS-485 4-wire: TxD+, TxD-, RxD+, RxD-, GND
RS-485 2-wire: Data+, Data-, GND
RS-485 Data Direction: Automatic Data Direction Control
(Terminator and Biasing functions are selective by DIP switch)
Connection Distance
RS-232: 15 meters (50 feet)
RS-422: 1200 meters (4000 feet)
RS-485 2w/4w: 1200 meters (4000 feet), Max. 32 nodes
DIP Switch Configuration
DIP-Switch 1, 2: RS-422/485 wiring mode
DIP-Switch 3, 4: RS-422/485 line terminator
DIP-Switch 5, 6: RS-422/485 biasing register selection
ESD Protection: ESD Contact 8KV, Air 15KV embedded
Optical Isolation: 3KV between RS-232 and RS-422/485
Performance
Baud rate: 50 to 921.6Kbps
Physical Characteristics
Housing: Aluminum
Dimension: 74 x 24.7 x 99 mm ( W x H x D)
Weight: 133 g
Environment Operating
Operating Temperature: -40 ~ 70°C (-40 ~ 158°F)
Operating Humidity: 20 ~ 85% @40°C, non-condensing
Storage Temperature: -40 ~ 85°C (-40 ~ 185°F)
Storage Humidity: 10 ~ 90% @40°C, non-condensing
Safety and Certifications
EMC: CE, FCC
EMI: FCC Part 15 Subpart B Class B, CE EN55022 Class B
EMS: EN55024, EN61000-4-2/ 4-3/ 4-4/ 4-5/ 4-6/ 4-8/4-11
Green Product: RoHS, CRoHS, WEEE
Power Requirements: 50mA@24V
Dimension Drawing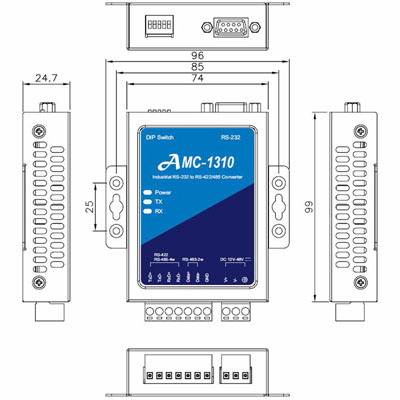 Ordering Information
| | | | |
| --- | --- | --- | --- |
| P/N | Product Description | Operating Temperature | Isolation Protection |
| AMC-1310 | RS-232 to RS-422/485 Converter with isolation | -40 ~ 70°C | 3KV(RS-422/485) |